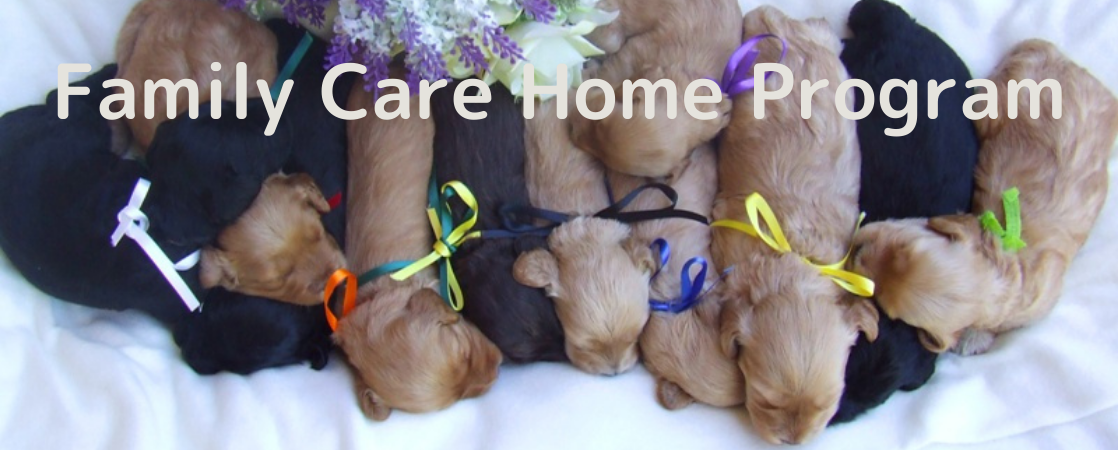 Practicing ethical and responsible breeding, we believe in a holistic, family focused, 'kennel' free environment for all our dogs and puppies.
Each breeding dog is homed with a local 'guardian' family, then visits the Sunset Hills property only when they are honeymooning and/or to have their puppies.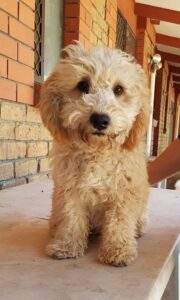 The aim of the Family Care Home Program is to place our breeding 'Doods' and 'Doodettes' in loving home environments to promote happy, healthy and much adored family pets. Whilst there is a dedicated team of dog carers on the property to provide visitors with all the comforts of home, there is nothing a dog loves more than its very own family.
This is where you come in!
As a guardian family, you would care for one of our breeding dogs/puppies in your home as your own pet. You will be responsible for loving them, walking them, grooming them, making sure they have a good diet, vet check-ups and a safe place to sleep and play, while they participate in their breeding program.
How Does the Breeding Program Work?
For Females: You will need to keep an eye out for her seasons and notify us the day this happens. These can occur from about 6 months of age onwards, and approximately 6-8 months apart.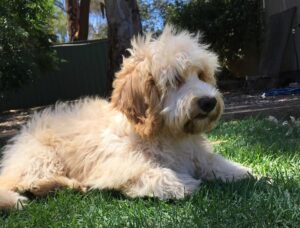 When she is over 12 months old and in season, she will be required to visit Sunset Hills to breed, it takes 3 to 7 days depending on her ovulation from the day you first sight blood (so 3 consecutive days). We can give you advice on how to check for your female's season.
For Males: Once a female comes into season (as per above), we may require your male Labradoodle to visit Sunset Hills for breeding. This takes 3 to 7 days depending on female's ovulation. Male can be used up to 4 times a year.
For more information about the program timeline, please go to our FCH Program Timeline link.
How Long Is the Breeding Program?
On average, our breeding dogs are de-sexed and retire around the age of five, with females producing no more than a maximum of four litters during her breeding career.
Once a dog is retired, they have no further obligation to the Sunset Hills breeding program and they live out their lives of leisure with you as normal.
Is There a Cost Involved?
If you take on a breeding dog as a puppy, there will be a security deposit, $1,000 for male and $800 for female, payable on collection. This deposit is refundable at the completion of the dog's breeding contract, usually after 5 years, if all conditions are met (a full amount for female and a half amount for male).
Male: $1,000 / Female: $800
If you get a family care home puppy, there is no way you can decide that you now do not want to do the program. It has been chosen to participate in our breeding program for a reason, so unless recommended by the vet, the puppy will need to be in our program until 5 years of age. There are also the normal dog related expenses, such as food, non-breeding related vet bills, local council registration, etc.
How to Apply for FCH Program
Please follow the procedures below to apply for FCH Program.
1
DOWNLOAD
Download the FCH Program Application Form from below.
2
FILL OUT
Fill out the form.
By submitting the Application Form, you are registering your interest in the Family Care Home Program. There is no cost to register, you will be added to the Database and contacted when a suitable puppy/dog becomes available for you.
FAQ
The following is a selection of frequently asked questions about FCH Program.
Can I still have an Australian Labradoodle as part of the FCH Program if I have other dogs?
Yes, you can as long as you do not have any dogs of the opposite sex.
Even if you do have a dog of the opposite sex, you may still have an Australian Labradoodle if the dog has been de-sexed or castrated.
Can anyone sign up to the FCH Program?
As a rule, the Program is only open to people living within 2 hours of Sunset Hills, 41 Aunger, Rd., Lewiston, SA5501
Is there any difference in the frequency with which male and female dogs take part in the breeding program?
As male dogs have to take part in mating to coincide with female dogs coming into heat, it is difficult to pinpoint the timing or frequency of breeding activities. You may be required to bring your dog in at short notice. As the timing for female dogs is determined based on when they come into heat, we can give you an idea when you will have to bring your dog in.
What is the average lifespan of an Australian Labradoodle?
Although it is considered that the larger the dog, the shorter their lifespan, it is fair to assume that the average lifespan will be around 15 years.
We are thinking of having a female dog. Are there any major differences from male dogs?
There are no major differences in terms of temperament.
Will being apart from their family for two months, to give birth to and nurture puppies, have any detrimental effect on our dog?
Although your dog may feel homesick for the first couple of days away from their family, they will have other dogs and our dedicated carers to interact with here at Sunset Hills and are generally too busy giving birth and looking after their puppies to feel homesick. Dogs do not forget their owners in the space of about 6 weeks, so there is no need to worry. Also, you can visit your dogs after two weeks from the date they gave the birth.